How can I keep my catheters private?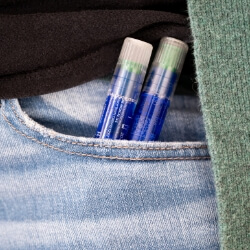 You might be surprised to know how many people use catheters daily and keep their needs private – even while traveling or using public restrooms.
Here are a few quick tips to keep your catheters private.
Carry your supplies with you in a purse, backpack, briefcase, or wheelchair tote
Take along brown paper sacks to dispose of your supplies in public bathrooms
Try a glasses case or pencil case
Use pocket catheters or discreet travel-sized catheters
Request free samples of discreet pocket catheter options at 180 Medical!
Contact Us
Additional Tips and Resources
Disclaimer: This content is not intended to substitute for professional medical advice, diagnosis, or treatment. Please do not use it in place of a visit or consultation with a qualified healthcare provider. 
Was this article helpful?