How does 180 Medical ship orders to me?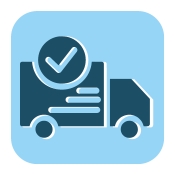 Wondering how 180 Medical will ship orders to you? We use trusted shipping carriers UPS, FedEx, and OnTrac.
In addition to our primary warehouse headquarters in Oklahoma City, we also have access to multiple warehouses across the country. Depending on your location in the USA, you should receive your supplies within 1-3 business days from the shipment date.
Ready to get started? Have more questions? Reach out to our friendly specialists!
Contact Us
Was this article helpful?