Why did I receive a new billing statement for an old order?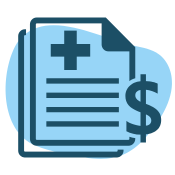 If you recently received a new billing statement for an old order of supplies from 180 Medical, it's understandable you have some questions. We're here to help.
To clarify what could be going on, we only bill you after your insurance plan pays its portion for your supplies. This is to prevent any over-payments or under-payments on your part, reducing hassle for you.
We typically submit your claim seven days after shipping your order. This is to ensure that supplies were delivered and are correct.
It can take insurance plans up to 45 days (sometimes even longer) to process a claim and send it back to us. Once we receive the correct processing from your insurance, we will generate a statement. You will generally receive a bill around 30 to 60 days after an order's date of service.
If you've received a billing statement from a shipment that went out several months ago, don't hesitate to contact the 180 Medical Billing Department at (405) 603-8218
Contact Us
Was this article helpful?