Why is my 180 Medical bill suddenly higher?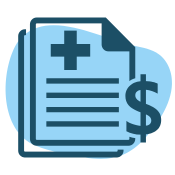 If you've noticed that your 180 Medical suddenly seems higher, there are several factors that might contribute to an increase in your bill for medical supplies. It's important to note that insurance companies set their own reimbursement rates based on a variety of factors, such as market rates.
Sometimes, insurance companies may increase their reimbursement rates, which can then raise your responsibility for payment. This means that even if your supply needs or coverage hasn't changed, your bill may still increase if your insurance company has raised its rates.
One of the most common reasons is a change in your insurance plan coverage, such as your co-pay or deductible amounts. Another possibility is that the new year has started, and your annual deductible has reset, which means you may need to pay more out of pocket until you reach your deductible amount.
Have more questions or need help with your bill? Call our friendly Billing Team at (405) 603-8218.
Was this article helpful?