How do I use adhesive remover wipes or spray?
Adhesive remover wipes or adhesive remover spray, such as the popular ESENTA™ Sting-Free Ostomy Skincare Adhesive Remover Products, helps remove pouch adhesive residue from your peristomal skin (the area around your stoma) to keep it clean and healthy.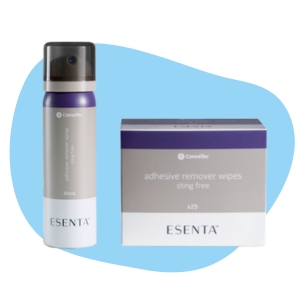 Plus, ostomy pouch adhesive remover may help prevent damage to the skin caused by adhesive residue and reduce irritation. This is especially helpful for people using one-piece ostomy pouches or people who change their pouches frequently.
Request Samples
How to Use Adhesive Remover Wipes
Use adhesive remover wipes when you change your ostomy pouch by gently wiping one along the leading edge of the appliance as you slowly remove the adhesive.
How to Use Adhesive Remover Spray
With the spray form of adhesive remover, use the spray to moisten a paper towel and use it the same way you would a wipe, gently removing the adhesive along the edge of your pouch as you remove it.
Disclaimer: This content is not intended to substitute for professional medical advice, diagnosis, or treatment. Please do not use it in place of a visit or consultation with a qualified healthcare provider. 
Was this article helpful?