When is a new prescription required?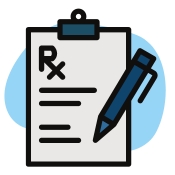 If you're new to 180 Medical, we require a prescription on file prior to shipping your order. This is because catheters and certain ostomy supplies are prescription-only medical devices.
If you're a current customer and you think your prescription is set to expire soon, don't worry. 180 Medical has a specialized team that works on prescription renewals. They will reach out to your doctor to see if they have an updated prescription for you.
Keep in mind that you may have to see your doctor in order for them to dispense a new prescription. If you need help or have more questions, reach out to 180 Medical.
Contact Us
Already have your updated prescription on hand? You can upload your new documentation through your secure online customer account by logging in on the
180 Medical Customer Portal.
Was this article helpful?