Can I get travel catheters?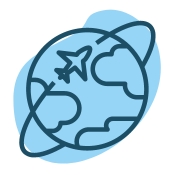 Travel catheters come in all kinds of options and brands. If you'd like a pocket catheter or compact catheter that's more convenient for traveling, 180 Medical can help.
Whether you use an uncoated catheter or a closed system catheter kit, 180 Medical has a discreet, travel-ready catheter option that may work for you.
Request free samples to get started.
Contact Us
Learn More
Was this article helpful?