What are eakin Cohesive® Seals?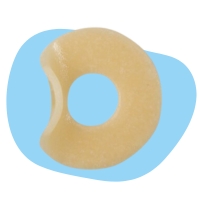 Eakin seals, which are moldable barrier rings, help prevent ostomy leakage and provide everyday skin protection by filling in any uneven surfaces in the skin and creating a more secure fit for your ostomy pouch.
Because these ostomy barrier rings are malleable, Eakin Seals can easily be molded and shaped to fit your body's specific needs and create a customized, even surface for your ostomy appliance.
Try Eakin Seals
Learn More About Eakin Seals
Disclaimer: This content is not intended to substitute for professional medical advice, diagnosis, or treatment. Please do not use it in place of a visit or consultation with a qualified healthcare provider. 
Was this article helpful?