Are you new to self-cathing? Have you been using intermittent catheters for a while, but you're starting to experience discomfort or frequent infections? Learning how to self-catheterize properly is essential if your healthcare professional has directed you to start using intermittent catheters. Luckily, all it takes is the right information and resources, a reliable catheter supply company like 180 Medical, and some practice.
Here are our top tips for people who are new to self-catheterization.
CATHETERIZATION (CATHING) DOs:
1. Gather all your catheter supplies before beginning.
First, you'll want to make sure that you have all the necessary catheter supplies to make your cathing experience comfortable and hygienic. For example, if you're using a straight uncoated catheter, you'll need to make sure you also have catheter lubricating jelly at minimum.
Some people also prefer to use catheter insertion supplies, such as gloves and disinfectant wipes, which can help reduce the risk of contamination when self-cathing.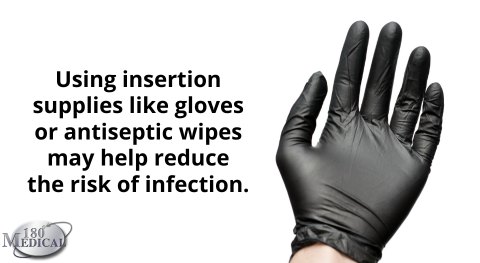 2. Maintain a sterile environment for catheterization.
If you're away from home when getting ready to self-catheterize, you can still maintain a clean environment to reduce the risk of contamination or infection. Just be sure to wash your hands thoroughly before catheterization and/or put on gloves before beginning. You may also wish to use antiseptic wipes to clean your urethral opening before inserting your catheter.
You also have options for enhanced sterility, such as no-touch catheters. At 180 Medical, we carry all types of catheters to suit your needs, as well as catheter kits with insertion supplies.
3. Follow your prescribed self-catheterization schedule.
When your healthcare professional prescribes catheters for you, they'll let you know how many times per day to catheterize. Be sure to follow your self-cathing schedule as instructed. If you get busy and miss your scheduled time, try to self-cath as soon as you're able to do so.
4. Use the right catheter product for your needs.
Did you know that not every catheter is designed to work for everyone? Because so many different types of people with different anatomies and medical conditions need to use catheters, a wide variety of product options are available.
180 Medical's highly-trained Product Specialists are here to help you understand your product choices based on your insurance plan's catheter coverage. Plus, we know our product offerings inside and out, even the newest releases on the market! So when you contact us for your catheter supply needs, you'll have access to free catheter samples from a vast array of types, which may include straight catheters, coudé tipped catheters, hydrophilic catheters, closed system catheter kits, pediatric catheters for children, pocket catheters, and much more.
5. Drink enough water and stay hydrated.
Water is essential not only to your overall health but also to the health of your bladder. Also, it helps your urinary system do its job to flush out bacteria and toxins.
If you're regularly self-cathing, be sure to drink plenty of water to stay hydrated. Talk to your doctor to find out how much water you should drink based on your body size and medical condition. However, a good rule of thumb to follow is to drink at least 8 8oz. glasses of water per day.
6. Make sure you know how to catheterize correctly.
When you're self-cathing, it's important to know how to cath properly to avoid discomfort, infection, and more. But what if you don't know how to use a catheter correctly? Are you wondering, "How do I use a catheter?"
At 180 Medical, you're in the right hands. We provide helpful online instructions for how to cath that's just a click away for easy online learning.
Plus, we can also send you full-color, step-by-step catheterization instructions in booklets and DVDs with your order.
7. Ask if your insurance plan covers catheter supplies.
Are you paying cash out-of-pocket for your catheter supplies? If you have health insurance, you may be able to save yourself some money! Many insurance companies today now offer intermittent catheter coverage.
You may be wondering: "Does my insurance cover catheters?" or "Is 180 Medical in-network with my insurance?"
180 Medical is contracted with thousands of health insurance plans, including Medicare, state Medicaid plans, and a continually growing number of private insurance plans such as Blue Cross Blue Shield, United Healthcare, and more.
Get in contact with us, and we can verify your insurance plan quickly to determine if catheters are covered by your health insurance. Plus, we'll find out how many catheters you can get per month based on your insurance's allowable amounts and your doctor's prescription.
SELF-CATHETERIZATION DON'Ts
1. Don't reuse catheters.
The FDA considers intermittent catheters to be single-use medical devices. Additionally, many studies have shown that sterile use, which is using a sterile intermittent catheter one time and then throwing it away, may reduce the risk of urinary tract infections.
Most major insurance companies today, including Medicare, will cover enough intermittent urinary catheters for sterile use. This is because they know that reusing catheters often leads to infections, which can ultimately end up costing insurance companies more money.
2. Don't use someone else's catheter supplies.
It may seem like an easy way to get free catheters if a friend or family member no longer needs to use their supplies and offers them to you. However, it may be risky to use a catheter that is prescribed for someone else. This is because everyone's body and needs are different.
For instance, some people require a coudé tip to bypass urethral strictures when a straight tip catheter just won't do. Using the wrong catheter insertion tip for your body could cause damage or irritation. The same could happen if you're using the wrong French size.
Plus, their catheter supplies could be expired, which means they are no longer safe for clinical or personal use. Be sure to look at your catheter package's labels to ensure they are not expired. When in doubt, consult your healthcare professional about what to do.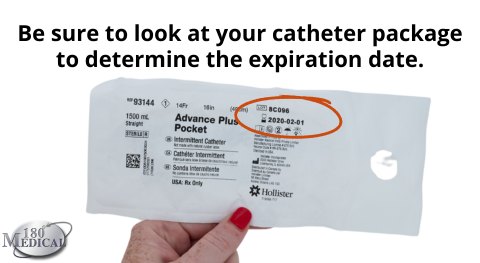 3. Don't use petroleum jelly to lubricate your catheter.
Petroleum-based jelly will not provide the same smooth catheterization that sterile, water-soluble lubricant made for catheters can. Using appropriate catheter lubricant may help make catheterization feel more comfortable for you.
4. Don't forget to activate your hydrophilic catheter.
You need a good amount of lubrication on your catheter to make sure it will not cause friction in your urethra. By popping the water sachet included with your hydrophilic catheter, the water activates the bonded lubrication, making the tube slippery and ready to use.
Keep in mind that you have many different options of catheters available at 180 Medical. If you prefer a hydrophilic catheter that doesn't require activation and want a ready-to-use catheter option, just reach out! We're ready to help you get the catheter you want.
5. Don't forget to bring your catheter supplies with you.
When you're on the go, you still need to go to the bathroom and follow your catheterization schedule. Be sure to bring along enough catheters to cover your needs for as long as you plan to be away from your home.
Want to keep your catheters private when you're in public or with friends? We provide some helpful tips for carrying your catheters discreetly here.
6. Don't ignore the signs of a urinary tract infection.
What are the symptoms of a UTI? Fever, chills, aching in the lower back, cloudy or smelly urine, and burning sensations are good signs you may have a urinary tract infection (UTI) or a bladder infection.
Be sure to call your doctor so they can diagnose and treat your UTI before it worsens.
7. Lastly, don't worry too much.
Worried about using a catheter? Or thinking you'll mess up somehow? When you start feeling anxious, tell yourself, "I've got this!"
Remember that literally tens of thousands of people use sterile catheters every single day. As you continue to practice self-cathing, it really will get easier. Plus, 180 Medical has your back if you need anything.
180 Medical has provided superior, compassionate service and quality catheter, incontinence, and ostomy supplies to customers for years, and we're rated Excellent by nearly 7,000 customers so far. Give us a call or contact us on live chat to see why so many choose and stay with us for their much-needed catheter supplies.
Disclaimer: Please note that this is intended to provide a general understanding of self-catheterization. It should not be used in place of a visit, call, or consultation with a physician or other healthcare provider.