Wondering where to buy female catheters? Maybe you have just been told you need to start cathing, and you're not sure what type of female intermittent catheter is right for you.
Whether you're using female length catheters as part of your doctor's prescribed treatment plan for urinary retention, urinary incontinence, neurogenic bladder, or another medical condition such as Multiple Sclerosis, you have plenty of female catheter options for self-cathing comfortably and efficiently.
Start here with our helpful guide about the three main types of female intermittent catheters for women.
Free Samples
What are Female Intermittent Catheters?
Catheters are small sterile tubes inserted through your urethra to drain urine from the bladder.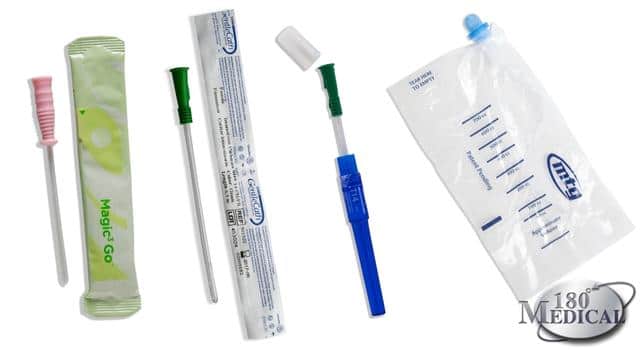 Intermittent catheters come in all French sizes and lengths for all genders and ages, including pediatric length catheters for children and adolescents. Female length catheters are typically around 6 inches long, although more compact options are available.
Catheters have come a long way since they were first invented. Luckily, we no longer have to self-cath with metal tubes or reeds. Today's intermittent catheters are typically made of comfortable, flexible materials such as vinyl (PVC), silicone, POBE, or red rubber latex.
Also, today's catheters for women come in advanced options like pre-lubricated catheters, hydrophilic catheters, and closed system catheter kits. They may offer a more smooth and more comfortable catheterization. Plus, many new female catheter products are more discreet and pocket-size than ever.
Free Samples
Female Catheter Lengths
Because the female urethra is typically only a few inches in length compared to a male anatomy's urethra, female length catheters are typically around 6 inches long on average. However, shorter pocket catheters for women exist, such as the pre-lubricated SpeediCath Compact for Women, which is a discreet 2.75 inches long!
If you need or prefer a long catheter, you may prefer unisex catheters (male length catheters). These can range up to 16 inches long. Some need or prefer this additional length for easier handling.
Female Catheter French Sizes
Another way to determine what catheter to use is by getting the correct French size. French sizes are the official measurement for catheter tube diameters. Most catheters today also use a universal color-coding system to help you more easily identify the French size of your catheter.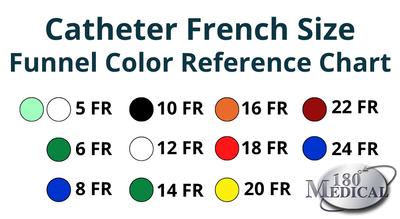 So how do you know what French size you should use? Your doctor or another qualified healthcare professional will be the right source for determining the right French size for your anatomy. The correct French size will help with overall comfort and drainage efficiency during female catheterization.
Why Does My Female Catheter's French Size Matter?
It can make all the difference in the efficiency and comfort of your catheterization routine.
For example, if you use a smaller female catheter French size than what fits your body best, you may notice urine seeping around the sides of the catheter. This can literally leave a mess on your hands. On the other hand, if you use a larger catheter French size than necessary, catheter insertion may feel difficult. You might even feel some catheter pain or discomfort.
That's why ensuring the right catheter French size is a big part of finding the right female catheter for you. After you and your doctor have discussed catheter size options, you'll want to start thinking about which intermittent catheter types for women may work best for your needs and preferences.
Types of Female Intermittent Catheters for Women
At 180 Medical, we take into account all of your needs, preferences, medical condition, and lifestyle. We'll help you navigate your female catheter product options.
First, you might want to learn more about the three main types of female urinary intermittent catheters for women and girls are:
Straight Female Length Catheters
Considered the original technology, female length straight intermittent catheters are uncoated and must be manually lubricated before insertion. Most people prefer using easy-open individual packets of sterile lubricating jelly, but we also offer tubes of catheter lubricant.
Straight female catheters are easily concealed in your pocket, makeup bag, backpack, or purse. This catheter type is lighter than catheters with insertion supplies, so these are easy to carry.


Hydrophilic Female Length Catheters
Hydrophilic catheters are similar to straight catheters in many ways, but one key feature makes hydrophilic catheters very different.
Female hydrophilic catheters have a special coating that, when activated by water, acts like a catheter lubricant. However, the coating is directly bonded to the catheter tube, so once it's activated, it stays slippery and smooth from insertion to withdrawal. No need to carry additional lubricating jelly.
Depending on the brand, some hydrophilic catheters come with their own sterile water packet. Just burst the packet and let the catheter soak inside the package according to directions, then it's ready to use.
Some brands, such as the Cure Ultra, are already lubricated or activated and ready to use as soon as you open the discreet catheter package. Then you can dispose of it easily once you've drained your bladder.
Most hydrophilic catheter manufacturers feature a handy guiding sleeve to allow you to insert the catheter without touching the tube itself. These are fantastic for minimizing the risk of contamination from your hands.


Female Closed System Catheters
Female closed system catheters are convenient since they are all-in-one packages. The pre-lubricated or hydrophilic sterile catheter connects to a self-contained collection bag, eliminating the need to carry additional lubricant.
Many brands also include insertion supplies, such as gloves and antiseptic wipes, in their closed system catheter kits. Most female length closed systems include a handy feature called a pre-lubricated introducer tip. These tips bypass the highest concentrations of bacteria in the first few millimeters of your urethra, which helps minimize the risk of urinary tract infections.
Some people in wheelchairs also prefer closed system catheters because they can self-catheterize right from their chairs. Thanks to the attached collection bag, you can catheterize anywhere you have privacy.
How To Use Female Catheters
Wondering where to start when it comes to learning how to self-catheterize with a female catheter?
180 Medical is proud to offer many helpful resources for learning how to cath. Plus, you can get our detailed, step-by-step instructions with videos at www.howtocath.com.
Women often prefer using female self-catheterization aids such as leg mirrors or countertop mirrors, so you can better see where to insert the catheter in the female urethra.
Need more help? Our highly trained catheter specialists have helped thousands of women, men, and children learn self-catheterization and find the right female catheter supplies.
180 Medical is Here for You
Since we specialize in catheters, we carry all the major catheter brands and types. You have the option to sample different types of female catheters, based on what your insurance covers. When you choose 180 Medical, you also get total freedom of choice when it comes to your brand preference.
Plus, 180 Medical offers free female catheter samples, so you can try out some options before committing to a full order.
When you're ready to order, 180 Medical is here for you! We'll be glad to help you find the female catheter that's easiest and most comfortable for you to use.
Contact us or give us a call at 1-877-688-2729. We'd love the opportunity to discuss your female catheter options with you!