For some, the topic of catheters can seem overwhelming, especially for individuals who are new to learning to self-cath. Whether you'll be using intermittent catheters temporarily or on a long-term basis, you'll be surprised by how simple the process can be once you're familiar with it. Don't get too overwhelmed by all the information out there, and know that you are not alone when it comes to catheterization. Plenty of people every day begin to self-cath and are becoming more comfortable with it as they go. Just take it one day at a time.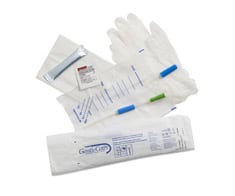 What Catheter Should I Use?
One point of confusion about catheters that our customers sometimes encounter is trying to figure out which particular product to use. While your doctor can help determine what type of catheter is best for you to use, you get to make some decisions on your own, such as what catheter brand to buy.
What Catheter Brand Should I Use?
Does it matter what brand of catheter you use?  Some product differences exist from brand to brand, so much of this comes down to your needs and preference. Additionally, your choices may be limited depending on which catheter supplies company you decide to order from.
You need and deserve a reliable catheter supplier who offers a wide selection of quality catheter products from all the top brands. 180 Medical carries top-quality catheters from all of the major manufacturers and brands available on the market, including Bard, Coloplast, GentleCath, Hollister, MTG, Rochester, Rusch, LoFric, Cure, and Hi-Slip, just to name a few.
By choosing 180 Medical, you can rest knowing you'll get the right catheter for your needs. We encourage you to learn more about leading catheter brands and products on our online catheter showcase.
Where to Buy Catheters
When you order your intermittent catheters from 180 Medical, you can be sure you're receiving a quality catheter product.
At 180 Medical, we understand that adjusting to using catheters can take time. It's our goal to make your process as easy and convenient as possible.
We have one-of-a-kind instructional materials available as well, which can help you learn how to cath step-by-step. Our catheterization instructions are available for men, women, girls, and boys. Plus, we have options for Spanish speakers.
Contact us today to discuss your options and find the right brand for your needs!