Recently, some 180 Medical employees volunteered at the Miracle League of Arizona. Plus, they got to present a donation check to help support this great organization. We'd love to tell you all about this special day. Also, we'll let you know more about Convatec's LIFE+ Community Program and the Miracle League of Arizona.
180 Medical and the Convatec LIFE+ Community Program
180 Medical, a subsidiary of Convatec, was honored to be able to present a donation of $20,500 to the Miracle League of Arizona. This is all thanks to the Convatec LIFE+ community program. Convatec, a global manufacturer of ostomy supplies, wound care products, and more, created this program in 2018 as a way to give back to our local communities across the country. Through this program, we get to invest in the health and lives of disadvantaged youth.
Through participation in a wellness challenge in 2019, 180 Medical helped raise funds for LIFE+. Later, each office location voted on a charitable organization to support. Our staff at Phoenix, AZ, unanimously chose the Miracle League of Arizona.
About the Miracle League of Arizona
The Miracle League of Arizona is a non-profit organization offering a free opportunity for children, teens, and adults with disabilities and/or special needs to safely play baseball. Their mission is: "Everyone deserves a chance to play baseball."
Cassandra Switalski, Executive Director of the Miracle League of Arizona, said, "I feel the Miracle League is so great because it allows an often-isolated population the chance to get out of their homes, be active, make friends, and experience encouragement and success. We do play baseball at our stadium, but it's about so much more. It's about social interaction, families connecting, and individuals having fun as a result of participating in an experience that caters to their unique needs."
In 2011, they built an awe-inspiring adaptive baseball stadium in North Scottsdale. The facility includes batting cages and accessible restrooms including caregiver restrooms. In addition, the site has a family picnic area and an adaptive playground. This ultimately helps foster an inclusive family environment. Most importantly, through the Miracle League, everyone gets a chance to participate, make friends, and get physical activity.
The Miracle League of Arizona provides free baseball programming to over 300 players with special needs and disabilities. The only way we can offer our services at no cost to our families is by the generosity of the community and tremendous partners like 180 Medical. We cannot thank you enough for your kindness and support!
180 Medical's Special Day with the Miracle League of Arizona
On January 25th, 3 of our 180 Medical employees in Phoenix, AZ, (Nadine Homeier, Ryan Huntley, and Jennifer Sund) attended the Miracle League of Arizona's free Resource Fair.
Jennifer, the Office Manager at our 180 Medical Phoenix location, told us about their day. "Steve and Cassandra were gracious hosts as they introduced us to all the precious kiddos in their league. Ryan and I were honored to throw out the first double-pitch of the game."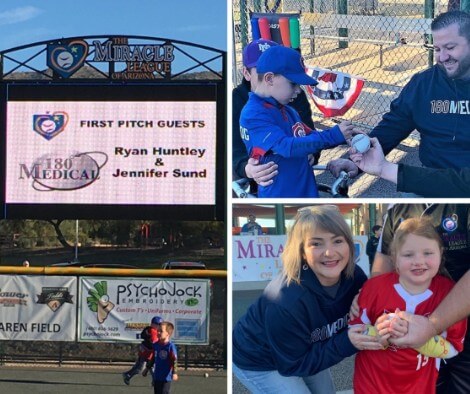 After that, the 180 Medical employees got to practice with two awesome catchers named Morgan and Grayson, who signed some baseballs for them. Next, they watched the Miracle League teams of the Cubbies and the Diamondbacks play their games.
"It was so amazing," Jennifer continued. "The Miracle League has thought of everything to keep baseball safe and adaptive, such as the surface texture of the field and the special balls they use. We were in awe of all the beautiful, happy faces of the players, the gentle and considerate volunteers, the involved parents and caregivers, and all of the excited fans. I'm definitely going to return to catch more games in the future!"

180 Medical Donation to the Miracle League
Part of the special day included officially presenting our donation to Miracle League's Executive Director, Cassandra Switalski.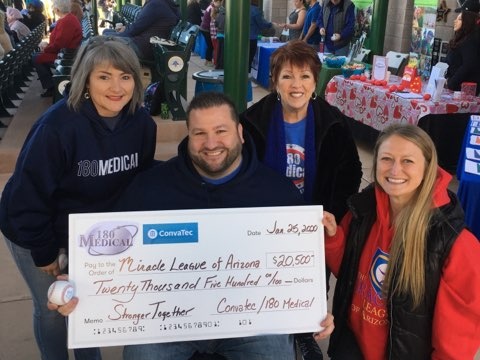 Cassandra told us, "We are so honored by the incredibly generous gift from 180 Medical and Convatec! It aids us as we offer personalized uniforms, end-of-season awards, adaptive equipment, volunteer training, baseball cards, and more for our 300 athletes with special needs, all at no cost to them! The funds will also go towards our Spring Allstar game, which helps give our players even more specialized baseball experience, just like in the big leagues!"
In conclusion, we're proud to be able to support this fantastic organization, thanks to the Convatec LIFE+ program. It's exciting to see how we can help change lives for the better both inside and outside the workplace.
Connect with the Miracle League
Ready to find out more about the Miracle League of Arizona and its adaptive baseball opportunities? You can check out their website at miracleleagueaz.com.
You can also connect with them on social media at: