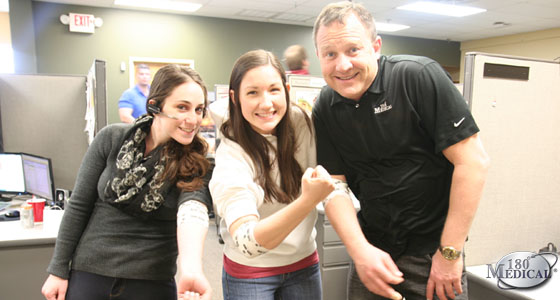 180 Medical Employees Give Blood to Help Others
One of the main reasons for 180 Medical employees give blood each year is our desire to help others. That kind of thinking fits perfectly with 180 Medical's philosophy of helping others and turning lives around. Many of our employees jumped at the chance to help out.
180 Medical partnered with the Oklahoma Blood Institute (OBI) this week for blood donations. We love giving back to our local communities and changing lives.
According to the Red Cross, just one person's donation can save up to 3 lives!
In honor of each donor, a monetary gift to the Global Blood Fund was also made. This gift supports blood centers that may lack equipment and supplies.
Do you want the chance to save lives too? Find your local blood donation center at www.redcrossblood.org.
Blood Donation Resources: