The heat was on at the 4th Annual 180 Medical Chili Cookoff last Thursday, October 6th! Find out more about all the fun we had as well as the tasty food our winners cooked up this year.
All About the 180 Medical Chili Cookoff
We have a lot of employees that are great cooks at 180 Medical. So a few years ago, our awesome leadership team create a fun annual event to let our cooks show off their skills! The annual 180 Medical Chili Cookoff is always a blast, and you wouldn't believe some of the amazing chilis we get to eat each year on this day.
Lindsay from our customer service team took home the prize as 180 Medical's Red River Chili Cookoff Champion this year!
Each year the chili cookoff takes place right before the Red River Rivalry game (OU vs Texas football game). Since our headquarters is located in Oklahoma City, we have many fans that cheer for one of the two teams. Here is a photo of some employees showing off their team spirit!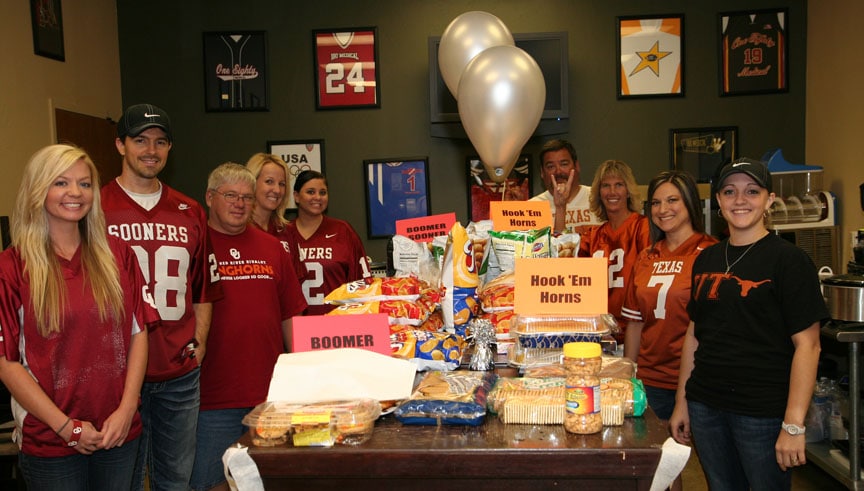 180 Medical Has a Fun Work Culture
These events are just part of the reason why working at 180 Medical is so great. We do work hard to help make people's lives easier by providing high-quality catheter and ostomy supplies. However, we also get to have a lot of fun too.
180 Medical offers different employee events throughout the year such as bowling night, company lunches and potlucks, movie days, and more. The list goes on! It's no wonder 180 Medical is consistently voted by our employees as one of the Best Places to Work in Oklahoma!