Can I fold my catheter to fit in my pocket?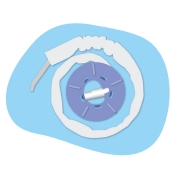 If you're trying to keep your urological supplies discreet, you may wonder if you can fold your catheter to fit in your pocket. But will it damage the catheter? In most cases, probably not, but you may want to avoid a hard bend that might kink or damage the tube.
This varies between brands and catheter types. For example, Cure Medical, one of the many catheter brands we offer at 180 Medical, manufactures its catheters with high-quality materials so the tube will not kink when bent or folded.
Also, 180 Medical carries plenty of pocket catheters and other discreet, compact catheter options. Talk to our Product Specialists about your options today!
Contact Us
Disclaimer: This content is not intended to substitute for professional medical advice, diagnosis, or treatment. Please do not use it in place of a visit or consultation with a qualified healthcare provider. 
Was this article helpful?